Printing Management System (PM)
A complete software system for Printers – Commercial / Digital / Label / Screen / Web (Forms). The package is available for both Windows Networks and IBM's AS/400 - iSeries.

---
PM is made up of the following modules.

Estimating (Cost Based)
Order Entry (Job Tickets/Dockets)
Job Costing (including Bar Code Data Collection)
Inventory Management (Raw Materials and Finished Goods) including Purchasing
Production Scheduling
Customer Product Management
Sales Analysis
Customer Relations Management (CRM)
A/P, A/R, G/L
---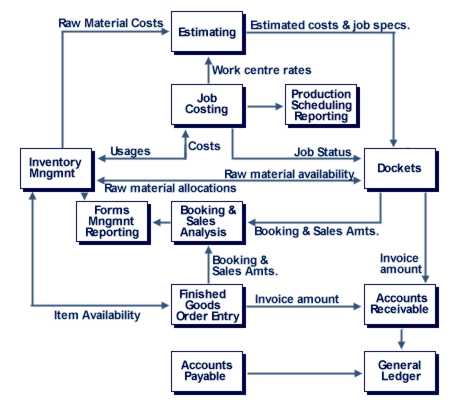 PM Application Interfaces
The estimating system enables an operator to estimate the cost of manufacturing a product in a very short period of time. The operator enters customer information and a description, specifications and features of the job. The computer then determines how the job can be manufactured and calculates the labour and material costs.
Order Entry is simplified because certain specifications and features do not need to be re-keyed for jobs that were estimated or are repeats. Repeat jobs can be recalled from history so that only the changes will have to be re-keyed.
The Job Costing application provides the ability to capture material and labour costs associated with each job. A bar code data collection system can be used to streamline the collection of labour operations performed, job status, raw material inventory consumption.
The Inventory Management application captures and reports information regarding both raw materials and finished goods such as customer forms or stock products (pack products). Allocations and usages of inventory items can be entered manually in the Inventory application or alternatively, the interfaces with the Job Jacket and Job Costing applications will update Inventory automatically.
The Production Scheduling Application enables the Production staff to re-schedule and arrange the jobs in the plant based upon the Labour loaded to each job at Order Entry time. The Labour loaded at Order Entry can be automatically entered from an Estimate or entered manually. A report for each Press can then be printed showing the jobs lined up and the total hours that have been scheduled.
An Accounting Interface can be provided to interface invoicing with your existing accounting software. Standard Accounting interfaces are to Manufacturing Vision for our AS/400 and PC packages. A quotation to interface with other Accounting packages can be provided upon request.
---
[Home Page] [Manufacturing Vision]
[Printing Management System] [Job Shop and Made to Order System]
[Software Development] [Company Profile] [E-mail]
---